Daily Telos Blockchain Diary
In December 2020, we worked with
Goldsmith Money
to launch their innovative idea,
Daily Telos Blockchain Diary
.  Daily Telos operates on the Telos Blockchain, a cutting-edge public blockchain network capable of handling thousands of transactions per second. Through the use of open source code libraries, the project was brought into a successful beta launch while minimizing wasted time and effort.  Refinement of the interface and features continues, as TLCC Consultants Pte. Ltd. works with Goldsmith Money to improve their decentralized application.
•  Transaction Signing and Submission – Daily Telos processes payments from valid Telos accounts, accepting multiple different Telos blockchain tokens as valid payment for journaling services.  Transactions are signed and submitted by the client, and verified by the server.
• Proof of Record – Daily Telos Blockchain Diary achieves a "Proof of Record" functionality on a public blockchain.  It enables for timestamped text of 1,000+ characters to be proved to be in existence.  These public records can not be easily modified by hackers, criminals, etc.  The difficult of modifying these records approaches "impossible", so long as the decentralized Telos network remains healthy and operational.
• File Proof – Utilizing the Proof of Record feature, a file can be hashed using SHA256 algorithm to produce a File Proof feature.  A File Proof, proves the existence of a file at a specific timestamp.  Once a file's SHA256 hash is posted to a public blockchain, beyond all doubt, that file existed at the given date and time.  Daily Telos has this File Proof feature natively integrated.
• Calendar Integration – Blockchain diary entries appear on a calendar under the blockchain username for each valid Telos account.  Clicking on the calendar event, shows the content and the blockchain timestamp.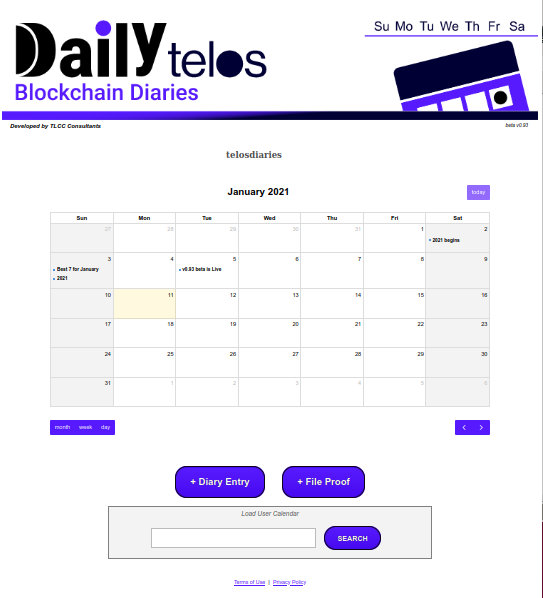 Daily Telos – Decentralized Blockchain Application